When the National Aeronautics and Space Administration formed in 1958, it was pretty much a boys' club. Women had some low-level jobs, but most of the higher-level work was done by men.
Katherine Johnson was one of the earliest female NASA employees. When she started, NASA didn't even exist. She was working at the Langley Research Center with the National Advisory Committee for Aeronautics (NACA), which was the agency that eventually developed into NASA.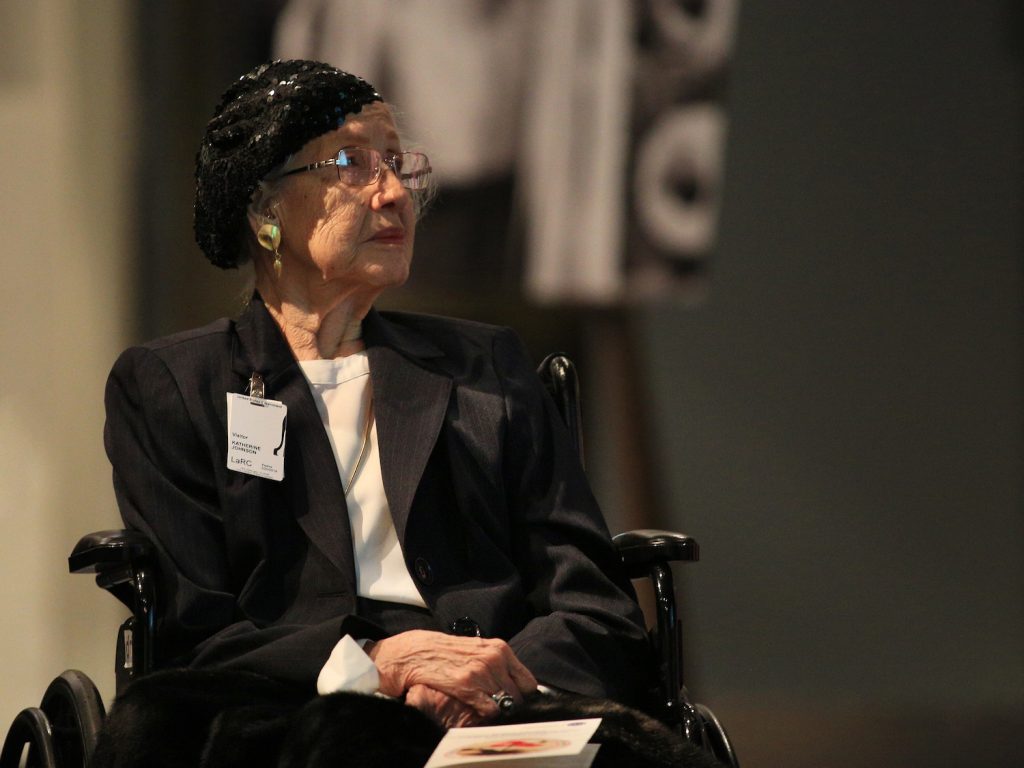 Originally, she worked in a pool of women performing precise math calculations, virtual "computers who wore skirts," in her words. One day, Johnson was temporarily assigned to help an all-male flight research team. Her knowledge and skills quickly proved her worth, and her male bosses and colleagues "forgot to return me to the pool."
Weren't there barriers for women and African Americans at that time? Yes, absolutely. According to Johnson, she ignored those obstacles. She took part in editorial meetings where women had previously been excluded. She had done the work; therefore, she had a right to be there. She was so highly regarded that at one point, John Glenn (who was skeptical of some calculations done by an actual computer) said, "Get the girl to check the numbers," referring to Johnson.
Johnson's fame grew when she received the Presidential Medal of Freedom from Barack Obama in 2015. That fame increased when the book Hidden Figures, about some of the African American women who worked in the early days at NASA, was released in 2016. A movie of the same name followed. In the film (which was nominated for three Academy Awards, including Best Picture), Johnson was played by Taraji P. Henson. The following year, when Johnson was 99, NASA itself recognized her contributions and named a new building after her. The Katherine G. Johnson Computational Research Facility, or CRF, is a state-of-the-art facility for innovative research and development supporting NASA's missions.
More women began to join NASA in the 1970's, especially after Nichelle Nichols (famous for her role as Lieutenant Uhura on TV's original Star Trek) was hired to promote women's recruitment to the agency. She was extremely successful, inspiring women like Sally Ride (the first female American astronaut, in 1983), and Mae Jemison (the first female African-American to travel to space, in 1987). In an ironic turn, Jemison herself appeared in an episode of Star Trek: The Next Generation, in 1993.
Although great strides have been made for women at NASA, there are still some bumps in the road. Today, about a third of NASA's employees are female. They have served as engineers, astronauts, and even the chief financial officer. In March of 2019, NASA prepared to have another first: a spacewalk performed by a crew of all women.
Unfortunately, things didn't go as planned. Both Anne McClain and Christina Koch, the astronauts scheduled to go on the spacewalk at the same time, needed a medium-size hard upper torso (the shirt of the spacesuit). But only one on the space station was small enough to fit both women, causing the first all-female spacewalk to be cancelled, though each of the women did get to walk in space on different spacewalks.
Girls may not run the world, but sometimes, they can see it from space.
Curriculum Reference Links
Nature of Science / Science in Society / 10:  Students should be able to appreciate the role of science in society; and its personal, social and global importance; and how society influences scientific research.